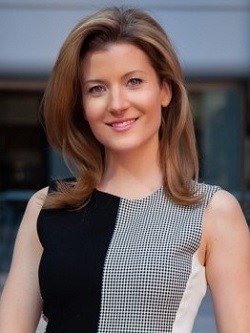 Managing Director, Climate Resiliency Leader, Aon Public Sector Partnership
Natalia is a Managing Director, Climate Resiliency Leader at Aon's Public Sector Partnership (PSP), which focuses on developing innovative solutions to help governments and other public institutions reduce volatility and increase the resiliency of their mission. The PSP is a global team of talented colleagues that have deep experience serving in government, insurance, reinsurance, and the capital markets.

In her role, Natalia works with clients to advance climate resiliency and disaster risk reduction solutions, well as drives innovative solutions to support the transition to a lower carbon economy (e.g., exploring the role that insurance can play in de-risking cleantech investments, improving the integrity of carbon offset transactions).

Prior to joining Aon, Natalia worked as a Director of Climate Resilience at the Intact Centre on Climate Adaptation at the University of Waterloo, where she led the development of programs, guidelines and standards for climate resilience and disaster risk reduction in Canada. Natalia held sustainability consulting and risk assurance roles at PricewaterhouseCoopers Canada. She is a Board Member of the Municipal Natural Assets Initiative, a non-profit that helps governments identify, value and account for natural assets in their financial planning and asset management programs.

Natalia holds a B.A in Economics and a M.A. in Urban Planning from the University of Waterloo.